Kitchen Sense Beer Braised Pot Roast
Created by Mitchell Davis
This is one of my top three go-to cookbooks. Mitchell Davis does a great job making a lot of different recipes accessible and always includes a section on what can be done in advance and how long it keeps after which I find really useful in planning. Kitchen Sense is one to have on your bookshelf.
Makes 6-8 servings
¼ cup vegetable oil, bacon fat, or lard
One Hay Mama 4lb. Boneless chuck roast, tied
Kosher salt and freshly ground black pepper
1 large onion, chopped
1 garlic clove, minced
1 celery stalk, chopped
1 medium carrot, chopped
1 small turnip, chopped (optional)
1 12 oz bottle beer, such as a lager or ale (or you can substitute 1 ½ cup dry red or white wine)
½ cup beef, veal, chicken or vegetable stock or water
1 tablespoon tomato paste
1 bay leaf
3 or 4 sprigs fresh thyme, leaves only, or ½ teaspoon dried
2 tablespoons unsalted butter
In a stove-top Dutch oven that is large enough to hold the roast but without much extra room, heat the oil over high heat. Season the roast generously with salt and pepper. Brown the roast in the hot oil on all sides, until nicely browned, 15 to 20 minutes total. Remove the roast to a plate.
Remove all but 2 tablespoons of fat from the bottom of the pan and reduce the heat to medium-high. Add the onion and cook until translucent, about 5 minutes. Add the garlic, celery, carrot, and turnip, and continue cooking until the vegetables have begun to wilt and brown, about 7 minutes. Add the beer, stock, tomato paste, bay leaf, and thyme, and bring to a boil. Return the roast to the pan along with any juice that has accumulated on the plate. Reduce the heat as low as it will go and cover the pan. Let the roast cook, turning it occasionally, for about 3-4 hours, or until the meat is fall-apart tender (it may take more or less time, depending on the stove temp and size of roast). Be sure there is always at least an inch of liquid in the pan while the roast is cooking; if not add more stock, beer or water.
When the meat is done, remove it to a dish and cover with foil to keep warm. Remove the bay leaf from the pot. Skim off any visible fat on the surface of the sauce (if you have time to chill the meat in the cooking liquid, skimming will be very easy). Using an immersion blender, food processor, or blender, puree the vegetables in the sauce. Pass this mixture through a fine-mesh sieve into a clean pot. Bring the strained liquid to a gentle simmer, whisk in the butter, and adjust the seasoning with salt and pepper. Keep warm. Slice the roast into ¼-to ½ inch pieces and spoon the sauce over the top to serve.
Prep Time: 30 minutes
Cooking Time: 3 ½ to 4 ½ hours
Advance Prep: The pot roast is actually better made a day or two in advance, and chilling makes skimming the sauce and slicing the meat easier. When the meat is finished cooking, cool it to room temperature in the braising liquid and chill. When ready to serve, remove the meat and slice while still cold. Place teh slices in a skillet or baking dish. Skim any congealed fat off the surface of the cooking liquid. Head the liquid, puree it, and pass it through a fine-mesh sieve as directed above. Whisk in the butter and pur the sauce over the meat. Cover and heat on top of the stove or in a 300 degree oven until warm.
---
Also in Recipes
Kristi's Favorite BLE Burger
Recipe adapted from Delish
Seriously one of my favorite indulgences.  You haven't tried it, it is a must do. If you'd like to skip the bun, you can also put your burger on a nice bed of greens or other favorite salad.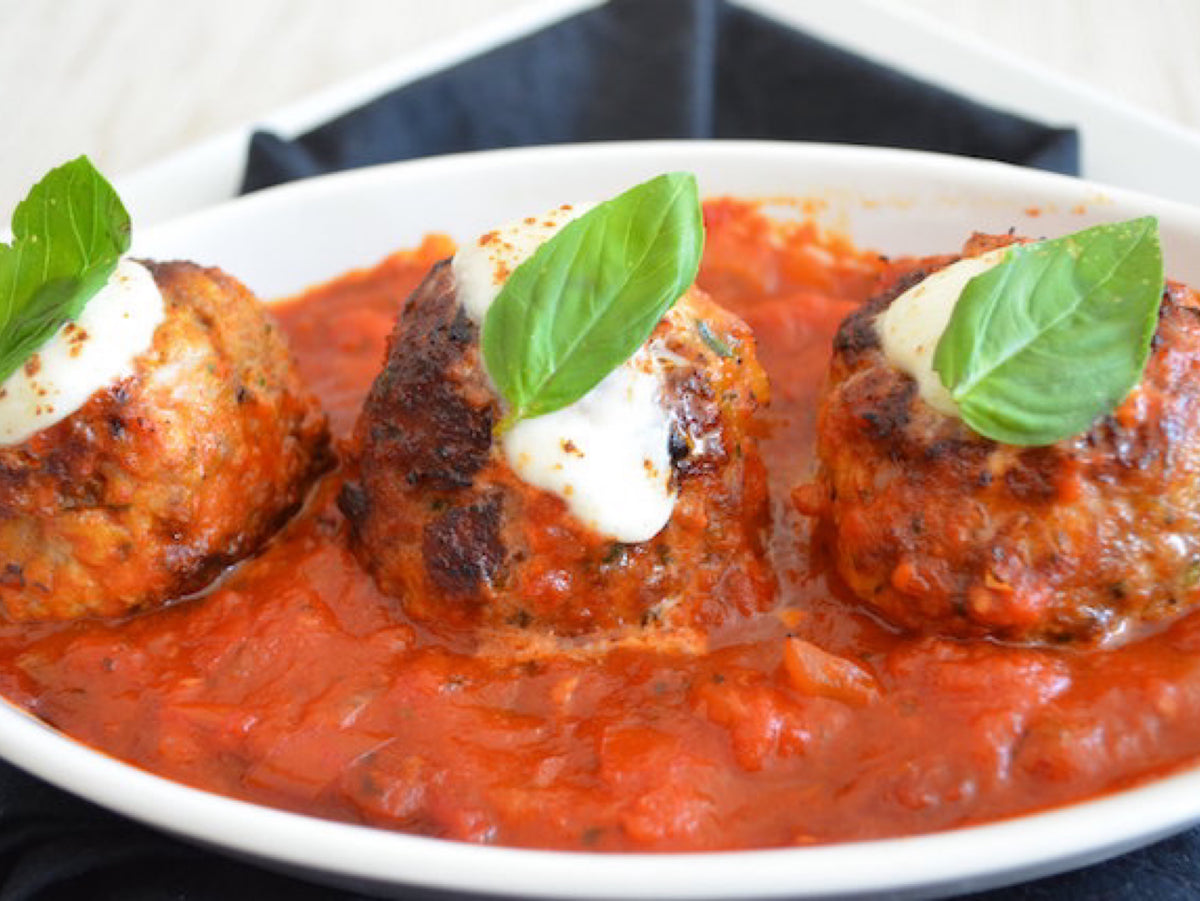 Kellan's Meatballs
Kellan Hori
will be a contributing celebrity chef to the Hay Mama Blog and Recipes.  Here Kellan provides his favorite meat ball recipe to use with your Hay Mama grass-fed ground beef. These meatballs are fantastic for serving on pasta, as a main on their own, or frozen for future use.
Kellan's Stuffed Bell Peppers