Kitchen Sense Beef Stew
Created by Mitchell Davis
This is one of my top three go-to cookbooks. Mitchell Davis does a great job making a lot of different recipes accessible and always includes a section on what can be done in advance and how long it keeps after which I find really useful in planning. Kitchen Sense is one to have on your bookshelf.
Makes 6-8 servings
1 Hay Mama chuck roast or brisket, cut into 1 ½ inch cubes (remove sinew and excess fat) so you end up with about 2 lbs prepped meat
½ cup all-purpose flour
Salt and freshly ground black pepper
½ teaspoon dried thyme
¼ cup extra-virgin olive oil, vegetable oil, bacon fat, or unsalted butter, or a combination
1 small onion, chopped
2 carrots, 1 chopped, 1 cut into small chunks
1 celery stalk, chopped
1 garlic clove, minced
1 cup dry red wine
2 to 3 cups beef, chicken, or vegetable stock or water
1 tablespoon Dijon mustard or Worcestershire sauce
1 bay leaf
12 ounces new or boiling potatoes (about 8), peeled and cut into small chunks
1 medium parsnip, cut into small chunks (optional)
4 ounces pearl onions, peeled (optional)
4 ounces fresh button mushrooms, stem ends trimmed, left whole or cut in half, depending on their size
1 tablespoon finely chopped flat-leaf parsley
Rinse the mat and pat dry with paper towels. In a plastic bag, combine the flour with about 1 tablespoon salt, ½ teaspoon pepper, and the thyme. Dump the mat into the bag and move it around to coat the meat with the flour. Set aside.
In a wide, heavy pot, heat the fat over medium-high heat. Remove the pieces of meat from the flour, tapping off any excess, and place them into the hot fat to sear and brown on all sides, about 10 minutes. Remove the meat from the pan and set on a plate.
To the pan add the onion, chopped carrot, celery, and garlic. Cook for 5 or 6 minutes, until soft. Return the meat to the pan along with any juice that has accumulated on the plate. Pour in the wine and stock, adding just enough to come about two thirds of the way up the meat. Add the mustard and bay leaf, along with about 1 teaspoon kosher salt and ¼ teaspoon pepper. Bring the liquid to a boil, reduce the heat as low as the burner will go, cover, and simmer the beef for about 1 ½ -2 hours, or until the meat is tender. At this point, you can stop the cooking if you are making the stew in advance.
Raise the heat to medium. If there's very little liquid left in the pan, add ½ to 1 cup or so more stock or wine. Add the chunks of carrot, the potatoes, parsnip, and pearl onions; cover and let cook for about 25 minutes, stirring often, until the vegetables are almost soft. Add the mushrooms, stir, cover and simmer for another 10 minutes, until the mushrooms are cooked through. Remove the lid and continue simmering for 5 minutes or so, until the cooking liquid thickens slightly. Adjust the seasoning with more salt and pepper, remove and discard the bay leaf, and serve with a sprinkle of parsley.
Advance Prep: The stew can be made up to the point that you add the diced vegetables, refrigerated, and then finished on or two days later as directed. It actually gets better as it sits.
Leftovers: The stew will keep for about a week in the fridge. It will also freeze well for up to two months, provided you don't add the potatoes. If you have a lot of leftovers, use them to make a beef pot pie by placing the stew in a baking dish, topping it with pie crust, and baking in a 425F oven until the pastry is browned and the meat is heated through.
---
Also in Recipes
Kristi's Favorite BLE Burger
Recipe adapted from Delish
Seriously one of my favorite indulgences.  You haven't tried it, it is a must do. If you'd like to skip the bun, you can also put your burger on a nice bed of greens or other favorite salad.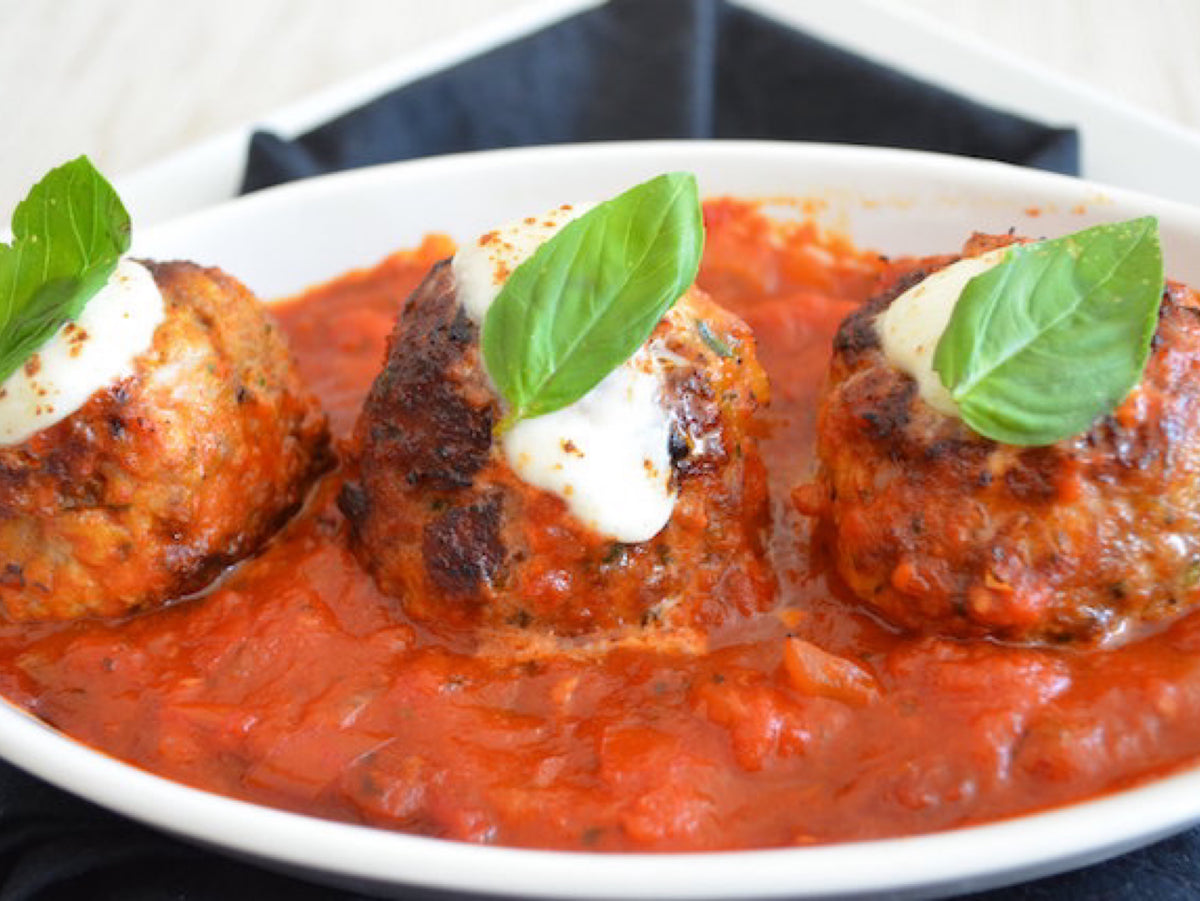 Kellan's Meatballs
Kellan Hori
will be a contributing celebrity chef to the Hay Mama Blog and Recipes.  Here Kellan provides his favorite meat ball recipe to use with your Hay Mama grass-fed ground beef. These meatballs are fantastic for serving on pasta, as a main on their own, or frozen for future use.
Kellan's Stuffed Bell Peppers