Helen's Yankee Pot Roast
YIELD
Serves 4-6
INGREDIENTS
4 lb. Hay Mama boneless chuck roast
Salt and pepper
3 tablespoons vegetable oil
1 medium onion, finely chopped
1 medium carrot, finely chopped
2 tablespoons flour
1 cup beef stock
1 cup water
1 cup dry red wine
½ teaspoon thyme
2 bay leaves
1 pint pearl onions, blanched and peeled
4 carrots, peeled cut into 1" pieces
4 celery stalks, cut into 1" pieces
2 tablespoons cornstarch
PREPARATION
1. Pre-heat the oven to 350. In a roasting pan or dutch oven, sear the meat on high with salt and pepper. Brown all sides. Remove the meat from the pan. Add the chopped onion and carrot to the pan and cook for 2 minutes. Sprinkle with flour, cook for 1 minute longer, stirring constantly. Gradually add broth, water and wine. Bring to a boil and add thyme and bay leaves.
2. Place meat in the pan and put in the oven. Cook for 1 hour and then turn the meat over. Cook another hour. Sauce should bubble gently. Lower heat if it cooks too fast. If meat is fork tender after 2 hours, remove. If not continue to cook another ½ hour and check and continue in ½ hour increments until it falls apart. Remove from the oven and set meat aside, covered with foil. Strain the broth to remove the carrots and onions. Pour broth in gravy master dish to remove the fat. Pour back into the pan and add carrots, celery and pearl onions. Remove visible fat from meat and return to the pan. Cook another 20 minutes until carrots and celery are tender. Remove meat and slice and serve. Heat broth on stove and add cornstarch mixed with water  and whisk in until thick.
---
Also in Recipes
Kristi's Favorite BLE Burger
Recipe adapted from Delish
Seriously one of my favorite indulgences.  You haven't tried it, it is a must do. If you'd like to skip the bun, you can also put your burger on a nice bed of greens or other favorite salad.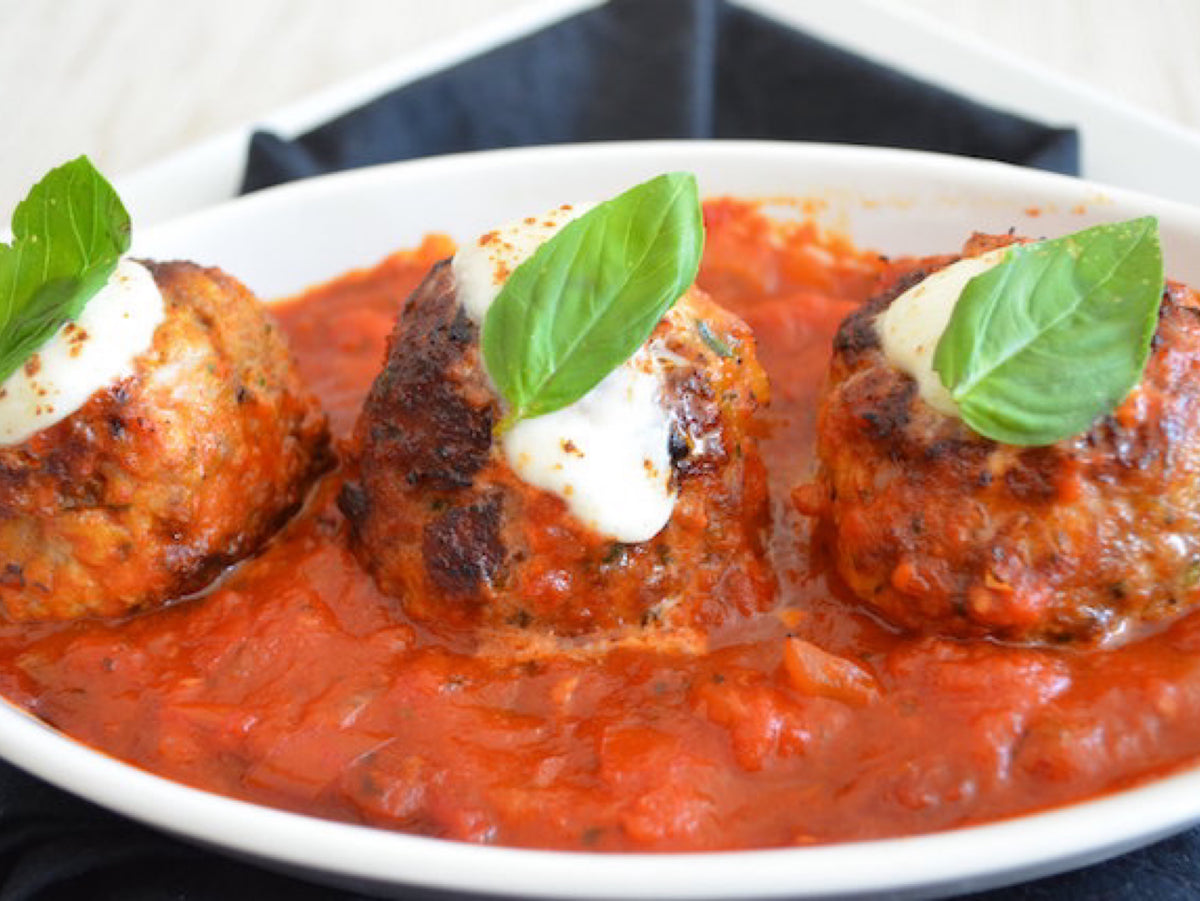 Kellan's Meatballs
Kellan Hori
will be a contributing celebrity chef to the Hay Mama Blog and Recipes.  Here Kellan provides his favorite meat ball recipe to use with your Hay Mama grass-fed ground beef. These meatballs are fantastic for serving on pasta, as a main on their own, or frozen for future use.
Kellan's Stuffed Bell Peppers